D821 Greyhound
News and Information
Latest News
October 2022

The locomotive has been subject to extensive bodywork repairs over the last 12 months and is nearing completion of a repaint into BR monastral blue with full yellow ends. In parallel, an extensive programme of electrical and mechanical repairs is underway. Some examples of the work being undertaken includes local overhaul of the control desks in both ends. Air pressure gauges in the cabs have been overhauled, including replacement of the faded gauge faces, which had lost their markings, and replacement of cracked perspex gauge covers with new glass. The perspex covers were installed about 40 years ago when the cabs were vandalised on the NYMR. The transmissions have also received attention to deal with oil leaks, which were getting worse. The air receivers are currently removed from the locomotive for hydraulic proving and statutory pressure testing.
D821 is one of the two preserved Warship locomotives from the original 38 built by BR at Swindon Works. Sadly none of the 33 built by the North British Locomotive Company in Glasgow were saved for preservation.
'Greyhound' is based on the Severn Valley Railway and is used throughout the running season and at diesel events.
Click the logo to visit the SVR website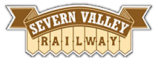 D821 Details
| | | |
| --- | --- | --- |
| Built | | 1960 |
| Length | | 60ft 0in |
| Width | | 8ft 10in |
| Height | | 12ft ½in |
| Weight | | 78 Tons |
| Power Unit | | Bristol Siddeley Maybach MD650 x 2 |
| Power Output | | 1,135hp at 1,530 RPM x 2 |
| Tractive Effort | | 48,200 lbf Maximum |
| Transmission | | Hydraulic Mekydro K104u, 4-speed |
| Max Speed | | 90 MPH |
| Train Brake | | Vacuum Only |
| Train Heat | | Steam heat boiler |
| | | (currently removed, out of use) |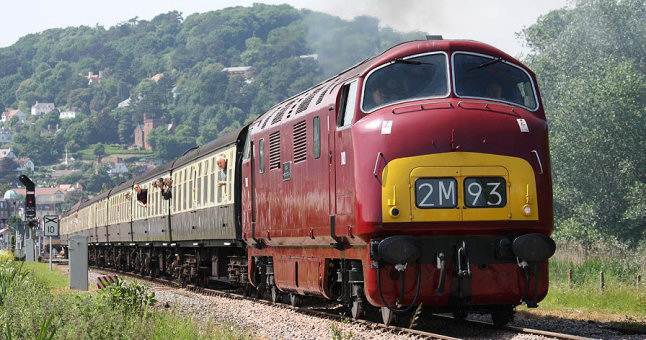 D821 departing on the 15:00 Minehead to Bishops Lydeard, GWR 175 Event, 11th June 2010 © Paul Winter
See the British Rail and Preservation galleries for more photos of D821
DIESEL TRACTION GROUP © All rights reserved