D1015 Western Champion
News and Information
Latest News
October 2022
D1015 has had a very busy 2022 running season on the Severn Valley Railway (SVR). In addition to its booked running days the loco has also covered additional diesel turns during the 'steam ban' periods, when steam traction was discontinued due to the high risk of lineside fires. In total D1015 has been in action on 42 days this year, covering in excess of 2100 miles. The loco has operated without failure - a credit to the DTG engineers and train crews.
Major maintenance this year has focussed on the installation of a replacement engine in D1015's B end. The new unit is based around an MTU 538 engine imported from Germany several years ago. Originally purchased as a source of spare components, investigations indicated that this version of 538 might be adaptable for rail traction use.
Following modification to make it suitable, the engine was installed in February 2022. It has been running in over the summer months and is settling in well after a few minor teething issues. In addition to the new engine, a further two 'short' engines (minus cylinder heads, cam boxes and turbo chargers) were purchased and imported from Germany in July. These engines are ex-Indian navy MTU 538 units.
The use of MTU cylinder blocks in place of the original 'Bristol Siddeley' Maybach blocks is a solution being adopted by the DTG and other diesel hydraulic preservation groups. The remaining Bristol Siddeley blocks are generally in poor condition and suffering from corrosion; most being life expired when acquired from BR in the 1970/80s. The MTU 538 engine is essentially a more modern version of the Maybach MD650/655 V12s used in the Warships and Westerns. Maybach MD series engines were eventually rebadged as 538s when Maybach partnered initially with Daimler-Benz AG and were subsequently absorbed into the MTU family.
Work has already started on one of the 'short' 538s to convert it to railway specification and build it up into a complete engine. Once finished this will replace the ex-BR engine in D1015's A end, which is starting to show signs of age and extended use. The other short engine has been placed in store as a spare.
D1015 is one of seven preserved Westerns from the original 74 built by BR at Swindon and Crewe. The loco has a DTG nickname. 'The Mule'
Western Champion gained mainline certification in 2002 and has since travelled all over the UK network, hauling railtours as far as Penzance in the South and Kyle of Lochalsh in the North.
D1015 Details
| | | |
| --- | --- | --- |
| Built | | 1963 |
| Length | | 68ft 0in |
| Width | | 9ft 0in |
| Height | | 12ft 11⅞in |
| Weight | | 108 Tons |
| Power Unit | | Maybach MD655 x 2 |
| Power Output | | 1,350hp at 1,500 RPM x 2 |
| Tractive Effort | | 66,700 lbf Maximum |
| Transmission | | Hydraulic Voith L630rv, 3-speed x 2 |
| Max Speed | | 90 MPH |
| Train Brake | | Dual Vacuum or Air |
| Train Heat | | Steam heat boiler |
| | | (currently removed, out of use) |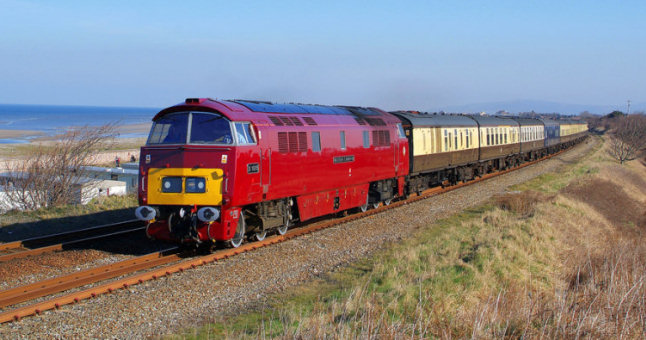 D1015 speeds along the North Wales coastline at Llanddulas, 16th February 2008 © Darren Armstrong
See the Railtour Archive for more details and photos of Western Champion around the country.
DIESEL TRACTION GROUP © All rights reserved