D1015 Western Champion
News and Information
Latest News
22nd May 2018
Due to omgoing delays with engine rebuilds, D1015 will be unavailable to work its next two scheduled tours in August.

Unfortunately there have been further delays to the engine being rebuilt on our behalf in Germany. At present it is not known when this will be delivered to the UK. In parallel to this, our engineers have been rebuilding another engine on site at Kidderminster. It has been discovered that one of the crankpins had been re-ground undersize, most likely from Swindon days, consequently it requires oversized bearings to fit. Fortunately the grinding was to an MTU official undersize so we will be sourcing a replacement from MTU. This option, along with the possibility of machining a replacement, has a far greater lead time than that which allows us to have a mainline ready locomotive for August.
Some people will be aware that unfortunately D1015 failed at the Severn Valley gala on Saturday evening, while operating on one engine. Investigations are still ongoing in regard to this failure, it is hoped that this is related to a fractured pipe, rather than a more serious engine failure.
D1015 is one of seven preserved Westerns from the original 74 built by BR at Swindon and Crewe. The loco has a DTG nickname. 'The Mule'
Western Champion gained mainline certification in 2002 and has since travelled all over the UK network, hauling railtours as far as Penzance in the South and Kyle of Lochalsh in the North.
D1015 is at present a resident at Washwood Heath, with thanks to Bowden rail.
D1015 Details
| | | |
| --- | --- | --- |
| Built | | 1963 |
| Length | | 68ft 0in |
| Width | | 9ft 0in |
| Height | | 12ft 11⅞in |
| Weight | | 108 Tons |
| Power Unit | | Maybach MD655 x 2 |
| Power Output | | 1,350hp at 1,500 RPM x 2 |
| Tractive Effort | | 66,700 lbf Maximum |
| Transmission | | Hydraulic Voith L630rv, 3-speed x 2 |
| Max Speed | | 90 MPH |
| Train Brake | | Dual Vacuum or Air |
| Train Heat | | Steam heat boiler |
| | | (currently removed, out of use) |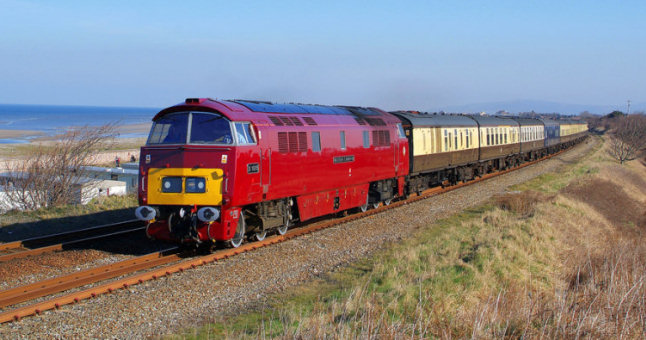 D1015 speeds along the North Wales coastline at Llanddulas, 16th February 2008 © Darren Armstrong
See the Railtour Archive for more details and photos of Western Champion around the country.
DIESEL TRACTION GROUP © All rights reserved