D1015 Western Champion
Memories and Articles
Memories and Articles of Westerns back in the day along with drivers' stories from the training and Mainline work since certification in 2002.
"Champion The Wonder Horse to the Rescue"
by Nick Edwards (D1012)
PART 1 - the FGW HST rescue (and almost a kettle same day as well!)

Not content with being a member of the finest class of locos ever built No 15 has had to help out lesser locos on a couple of occasions since returning to the mainline.

Having been with '15 since Bristol Parkway on the morning of the 26th October 2002 (on railtour number 5, The Western Pilgrim) we arrived back at Temple Meads where a loco swap was planned with the good power running back to Old Oak Common. The end of No 3 platform at Temple Meads was awash with the faithful and I had a job to get to the 'phone on the signal to ask for the road.

When I spoke with the "bobby" he asked if I signed via Badminton. I confirmed that I did and made my way back to the cab. The red flicked to green and the reverser was placed to 'forward' and a little power taken before releasing the straight air brake. A bellow of "My Lords!" went so not to disappoint the faithful I gave it quite a bit more but mindful of the 25mph speed restriction at this point. Whizzo haulage on the 26th October was over.

As we headed back towards Old Oak through the darkness we made good progress until Wooton Basset West where we were checked down. The reason for this was a Tram that was coming 'bang road' for some reason. As it passed us the red stepped up to just a single yellow with the next signal showing a single yellow with No 1 'feather' which took us in the loop. Keen to get home I went down on the 'phone and the signalman asked if we were a "Great Western" engine. "Well, yes. It's probably the ultimate Great Western engine mate" I replied. "Good" he said "You've been asked to run wrong road to Dauntsey and rescue a HST which has slipped to a stand". (The HST in question was the 17:15 ex Bristol and it was now 20:00 so the passengers had been stuck for ages)

I informed Mr Koch in the rear cab who was finished! After changing ends we made our way carefully along the Up road and eventually espied a HV in the cess. This was the driver. He was quite young and looked at '15 like it was from Outer Space!

Whilst we waiting to couple the phones were red hot. We were OK for Padd and I believe Paul made contact also with FGW control. My phone rang and it was the EWS Control who asked where I was. "On a Tram" I replied. "Oh! Thought you might be still on ten-fifteen as we want you to run light to Tiverton Junction where a kettle has blown up and drag it to Kidderminster. You're the only vacuum braked engine anywhere!"

"When I said I'm on a Tram I mean I'm just about to drag a Tram from Dauntsey to Paddington" I replied. Slight pause at the other end then "MY LORDS!"

So, in the space of a few minutes (in 2002 mind you!) D1015 had been considered to rescue two trains!! Quality traction shines through.

After a brake test we moved off slowly gradually picking up speed towards eighty or so before getting the flashing yellows into the platform at Swindon. This would be the moment of truth. Would we or wouldn't we? (Below: D1015 and HST at Swindon)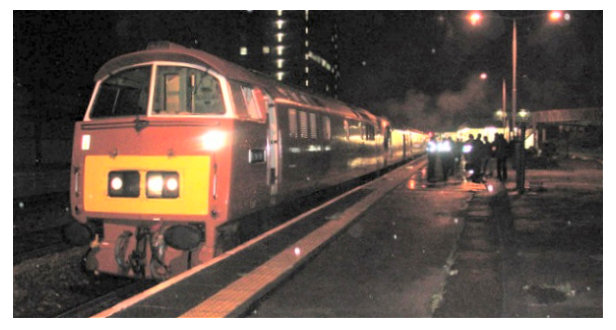 Numerous platforms Berts were milling around and no-one seemed to know what was going on. It transpired that FGW weren't too keen to have one of their trains arrive in Padd with an "old fashioned" engine on it. "Well we'll go to Reading then and run round" I suggested. Nobody seemed to realise that the Tram was OK to go forward now. It wasn't a failure but had just slipped to a stand.

Eventually we were told to uncouple. I hastily rang Doncaster to offer our services at Tiverton but was told that they'd found a vacuum braked Duff at Eastleigh and it was going to run light engine to Taunton to meet the slightly revived kettle. Alas further rescue was not to be so we ran home to The Oak after one of the most outrageous workings of the preserved mainline diesel era.
PART 2 - Ottery St Mary & Educating Sir Misha's Son on the subject of bellowing!

Fast forward now nine months to a humid 27th of July 2003 and railtour number 10, The Bournemouth Belle. I picked up No 15 (now temporarily renamed Sir Misha Black) at Old Oak and we ran light loco to Salisbury via Reading, Basingstoke, Winchester, Southampton and Romsey. We were booked via Andover but for some reason which was not clear went the more circuitous route. The purpose of this was to drop on the back of the VSOE (taking over from 34027 Taw Valley which was masquerading as 34045 Ottery St Mary). At Salisbury No 15 was rededicated by Sir Misha's son Oliver who we then gave a cab ride to Bournemouth.

This was a heavy train but No 15 made light work of the climb away from Alderbury Junction towards Romsey. We were looped at Brockenhurst for some unit or units to pass us and during the stop an impromptu crew phot stop was undertaken. (Below: D1015 looped at Brockenhurst)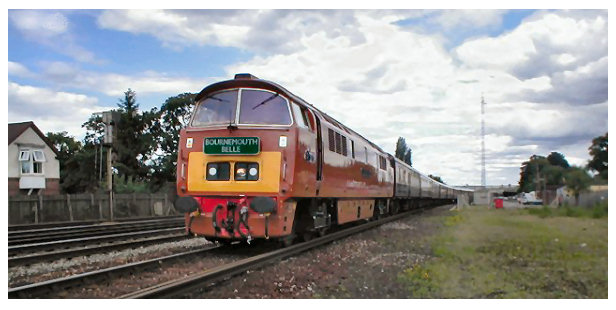 Mr Black was most intrigued by the numbers of lineside photographers and he was informed just what an influential man his father was! Oliver was further informed that the correct response to linsiders was the universal raised arm salute. So someone, somewhere in the New Forest has a shot of the son of Misha Black bellowing out of No 15's secondmans window!

The details of the journey can be found elsewhere on this site however we pick up the story back at Poole where after reversal No 15 was to bank the kettle to Bournemouth, detach and then run light back to The Oak.

During a conversation with the Steam Inspector it seemed that all was not well with the loco but they were going to have a go. We detached as planned at Bournemouth and sat in the Up main platform awaiting our departure time. The loco as usual was surrounded by admiring enthusiasts and "normals".

It was now a glorious Summers evening to be aboard as we sped through the New Forest but as we approached Southampton we began to pick up adverse signals until we were stopped at the gantry outside the station. Speaking to the signaller we were informed that the kettle was in trouble and would we assist to London? Would we?!!!

After running past the train we dropped onto the front of 34045 (34027) and coupled up and brake tested. As is usual in these circumstances the two crews had a brief to ensure what was to take place. Officially 34027 should not take power when being assisted but it was agreed that in order to regain some time it should on the long climb from Eastleigh up through Wallers Ash to Worting Junction. Strict instructions were given to the steam crew that they shouldn't do anything until after Northam so that No 15 could show her aptitude pulling away from a crowded Southampton.

A goodly amount of thrash was required to get the 700 odd tons moving even upto the maximum speed of 20mph for the permanent restriction at Northam. Unfortunately spurious TPWS interventions occurred three times bringing the train to a stand at Northam and twice between Winchester and Worting Junction. Still, it did give the punters three more standing starts although they were probably not appreciated by the diners in the Pullmans!

Away from Northam and both Whizzo and kettle were given the lot. I'm told by two correspondents that the sight at both Eastleigh and Winchester was most impressive not spoilt by too much horn/whistle blowing. (I'd very much like to see shots of that; there were photographers at both locations but I've never seen a shot - yet!)

There was a final burst of high speed thrash between Worting and Byfleet before we diverged off the mainline and ran through Chertsey, Staines etc in order to access the Eastern side of Victoria via the Ludgate lines and the Battersea reversible. Once the stock and 34027 had been drawn away to Stewarts Lane we made out way home via Kenny O, South West Sidings and the Greenford loop before dropping onto The Oak just after midnight with yet another job well done by The Mule.

Incidentally, as I write this just to my left is a bottle of Black's Beauty brewed by Moor brewery (unopened!) which Mr Alden gave me after the Penzance trip in July '03. The label shows me driving '15 somewhere on the Southern during the above trip. Try as I might I can't identify the location so any clues please?
PART 3 - Not so much a rescue but ...

Although not a rescue in the sense of the incidents above, a little reported service train working took place on the Dunster by Candlelight tour on 1st December '05. Before departure from Bristol the crew were asked to convey passengers to Westbury because a Sprinter was unavailable for a Brighton service.

As we were booked to call at the principle stations between Temple Meads and Westbury anyway there were no Special Stop Orders required but a few lucky travellers enjoyed good power before swapping onto the Wessex standby set which was top and tailed Gary Goyles! Still who'd have thought you could have gone from Bristol to Brighton on loco hauled stock as late as December 2005?
None of this would have been possible (nor would my life long ambition of driving a Thousand in and out of Exeter St Davids after spending so much time and money riding behind them in my youth) without the dedication and professionalism of the gentlemen of the DTG.
And furthermore who of us who stood at Padd, slightly damp eyed, as it approached midnight on 26th February 1977 could have thought that thirty years later we could still be privileged to travel behind a member of greatest diesel locomotive ever created??
Thank you
Nick Edwards (D1012)
"Surprise Surprised"
by Andy Floyd (D1030)
Surprise Surprised Surprise Surprised I have wanted to write an article for the Diesel Traction Group (DTG) website for sometime and only have now really found the time for it, so with no journalistic skills and about as much use at English and grammar as someone from Mars I hope you enjoy this article.

Surprise is far from the word when the grapevine started through gossip, Internet and mags about a Western making a triumphant return to the mainline. It always made me think that April fools was a continuing long lasting joke. So I had to see it to believe it and it sure did happen. Of course even the first time I saw the mule at Bristol Temple Meads on a very cold 23rd February 2002 I had to do a double take. But sure enough there she was and sounding very nice, never mind her slender looks!

I'm not going to dwell on much of the surprise of her return to the mainline as this has been well documented elsewhere and of course here on the DTG site. But I'm sure glad to see the old girl back! Surprised being later that year of 2002 when I along with Nick Edwards were summoned to Old Oak Common to learn the mule for instructing and driving. I had to think very long and hard about this, as the thought of driving a western on the mainline, could easily bring on the need of a visit to the mental asylum/hospital, but seriously I was thrilled to have been asked and who said dreams don't and can't come true! There was two drivers at Bristol trained on 'The Mule', however both of them left the company for their own reason.

These two were swiftly replaced by another two drivers and then I was added for the purpose mentioned above and also to cover for them, if they were on leave or insufficient route knowledge. Of course not all drivers at Bristol went everywhere, so I guess selection was based on likely routes the locomotives was to work. My route knowledge was pretty good as Rail Express Systems invested a lot of money for driver's route knowledge. We travelled up from Bristol to London early in the morning at 08.30, well that's early for me (government should ban working earlier than 10am). Also joining us on the course were two Acton drivers, Pete List and Paul Stewart. We all met up with the DTG's very own Steve Wainwright, who was our instructor for the next two days, 5th and 6th December. So on the first day we all introduced ourselves and cracked on with the task to hand and that was for Steve to train us all on the thousand.

Steve gave us all handouts and explained to us all the process that would take place over the next few days regarding the timetable of training. You will have noted that I have only mentioned two days so far, however there is a third day, that being 7th December when we would all during the course of the day do our practical handling on the locomotive. I will talk about that more later on. Back to day one and after being giving the timetable of what was to happen, we concentrated on classroom based work, studying the handouts that Steve provided looking at the various equipment, what it means to a driver (if any), what it does, if we need to know about it. It was mind blowing to what I have been use to in the past, but still very informative and indeed interesting. Again not wanting to bore anyone as this informative information is also shown on this website. Day two was putting the classroom knowledge into practise, by looking around the locomotive identifying the components, walking around the locomotive inside and outside.

Part of the conditions for D1015 on the mainline is that we don't learn fault and failures or indeed prepare the locomotive. These jobs are for the many travelling fitters that are dedicated members of the DTG. Steve did however, gives us some hints and tips about what to look for. Nick and I was also shown the pre-heaters and how to operate them, for our own interest Steve also describing at what point the engine(s) can be started, Steve stating that we must start the remote engine first, for those that want to know the reason, is straight forward (even I understand it) the RPM gauge in the cab is for the engine nearest to that cab, and therefore if that engine is running, there maybe a good chance that the remote engine may not be heard starting, phew, think I got it! Now already having been shown around the outside of the locomotive and discussed the inside a little bit, we turn our attention to the cab(s). Steve showed us the cab layout, explaining the modifications made, also explaining the driving controls and the importance of the Straight Air Brake valve and of course the Tooth on Tooth. The straight air brake being very slow at applying and releasing, so the warning was duly given. We saw the fault lights, all showing blue under normal conditions, and glowing red under fault conditions. It was not just the case of the main fault lights on the driver's side, as in the locomotive you have a row of faults on the secondman's side.

It was sure a relief seeing all the lights blue, apart from the A and B engines showing red, well we haven't started her up yet! Apart form the pre-heaters and a few other things that have to be done, such as BIS for instance, before a start up can be achieved, the main item in the cab that has to be moved is the ESIS, otherwise she wont run. The ESIS switch is applicable in each cab for the respected engine, so being in A end, you have to proceed to B end and switch in too. So now we have started our engines, all fault lights are now blue, the compressor runs, building up the air and all components running normally, she sounds sweet ticking over, and starting her was unbelievable, just an amazing locomotive. We completed various static testing of the braking equipment, looking at the switch panel, finding marker light and tail light switches, and you could do with a neck like a giraffe to look down finding the correct switches. Next was to have a little drive within the depot just to get the feel for the locomotive and how she performs as a light engine. Of course our ultimate performance test will be the next day on Saturday 7th December when she worked Tour 6, The Western Sunset, again more on that later.

What I found strange was opening the power handle, when the RPM slightly falls along with the engine pitch, before picking up and moving. Stopping was fun, as described above the straight air brake being slow to apply and release. But none the less, she had to be stopped and we did so, much to the relief of Steve. We only had the opportunity to drive within the factory area of Old Oak Common, as our mainline drive and final passing out of the traction was the next day. Due to the charges by Network Rail for track access, practical handling is now normally dealt with at the first opportunity from the static training date. Now with everyone happy by the standard of Steve's training it was time to go home and let all his information sink in, whilst at the same time looking forward, with a little bit of nerves, for the next day's practical training and final passing out as a qualified thousand driver. So now to Saturday 7th December 2002, I was notified of my duties and with no surprise I received a text message requiring me to book on duty at 11.33 until 20.11, which was a restday work for me. I had to travel passenger to Hereford via Newport, which made a change not having to pay to get into Wales! No offence to any welsh readers of this article! And then relieve 'The Mule' at Hereford and rostered to drive her to Gloucester via Lydney. However fellow Exeter born and bred colleague, (lost boys and Exeter Crew on the 52) Nick Edwards required his mainline drive. So I decided that I would have my little bit of Glory by taking her to Newport and allowing Nick to take her to Gloucester.

Now if my memory serves me correct we had a little rogues gallery picture taken at Hereford and then duly entered the cab ready for departure. Now this is not the first time I had a thousand from Hereford! D1041 I think it was on that, well it was being hauled by 47536 and had a collection of other loco's going to the WSR gala, think D832, 45xxx and 40145 was in the consist. But with Nick Edwards in the cab, he indeed duly stated that this was the first thousand out of Hereford for about 26 years. Adrian Curtis started to produce loads of information about thousands (shame they stopped) but with regards to thousand knowledge, I can't think of anyone with more memory stats than Nick Edwards has. He rattled off, which loco it was and what working and date! Simple to say I forgotten this, otherwise I would have included it in this article. So with departure time getting close by, having a quick look around the cab, making sure I remembered where everything was. The straight air brake was fully applied; the train brake was in initial, master switch in engine only, just waiting for the right away. Steve, Nick and myself just having a final chin wag before departure. There we go, I have the right away, put her in forward, release the train brake, open the power handle a couple of notches, release the straight air brake so that she and the train don't roll back (not that this was likely to happen at Hereford) and last of all, when she starts to move, open the power handle further, gaining more speed. There has always been a debate on how drivers, drive locomotives, how enthusiasts want "clag/thrash/noise" so without entering into debate further, I have always decided that, and always say this to people that know me, I work on a three tier scenario, and in no particular order.

• Please the owners/group of the locomotive, by the way its driven, using their advise
• Please the paying enthusiasts with the quote above, clag etc
• Enjoy myself, by driving to the skills, having been taught how too all them years ago

Back to the point, once clear of the speed restriction departing Hereford it was time to open her wide and leave her there to reach line speed. At this point its hard to say if the thousand cab is quiet, as in this instance I think it be very rude not to leave the cab window open to hear this magnificent locomotives sound. Still, this could kind of sound daft, but now I'm getting to know the locomotive and the locomotive is getting to know my style of driving, well I guess the onboard engineer(s) are! I noticed how good the acceleration is, soon picking up speed up the gradients and of course looking out for the good old semaphore signals, making it look dated for the 1960's. Of course one of the highlights of my drive is the climb up Llanviangel, before ascending towards Abergavenny, of course full power is maintained on 1,550 rpm and the speed starts slowing, but still if memory serves me correct a steady 60 mph is achieved at the top (corrections on a postcard please) still powering over the top a little longer, so that the whole train is now clear of the summit, before easing off and the run to Abergavenny.

So with some high speed running its time to slow, for the curve at Pontypool station of 50 mph. Then of course little more power applied for then the slower speed running on the outskirts of Newport. Now its getting very close to the end of my first proper drive of a thousand and very enjoyable it was too. As said earlier it is at this point I handed the controls over to Nick Edwards. We arrived at Gloucester and then watched 'The Mule' go off into the sunset! Mind you knowing this country it was probably raining, but still I had a very enjoyable time and leaving the cab with Nick Edwards as qualified thousand drivers has got to be no doubt the pinnacle point of our railway careers. We had a lot to chat about travelling back to Bristol, feeling on cloud nine!

I might decide to do other articles in the future and I hope you have enjoyed reading this one, but I will leave you with this one for now and one final statement. Its very difficult to thank individuals for their efforts, so please do not be offended if your names not included here. So I know Nick as said this before and believe he has written it within his own articles on the DTG website, but all I can say is a big, big thank you to everyone involved at the DTG and especially those of have helped with hands-on work to get and keep the mule on the mainline. Also a big thank you to Steve Wainwright, who has made the dreams come true for a lot of railwaymen.
Andy Floyd (D1030)
"Western Trilogy"
by Nick Edwards (D1012)
1. STATION

The orange glow of the station lights shimmered in the puddles on Platform 7 as four hardy souls peered towards Mutley Tunnel awaiting the arrival of the stock to form the "Cardiff" from Laira. It was widely speculated that "Ten - ten" would appear having worked the Down service earlier in the day. Speculation and rumour formed most of the conversations that year and, indeed, that was a lot of the fun, after all at times there wasn't much action particularly at this late stage of the game.

On this day those present had arrived on the "Cardiff" at just gone eleven and now a mere six hours later they were hoping for a miracle as Laira was jammed packed with steam heat Duffs and Peaks and just a solitary Whizzo. Christmas '76 was a time of reckoning; we all knew that in about ten weeks it would be all over but none us wanted to give up and so what next? It couldn't be Hoovers could it and Duffs were so boring, new engine bashing was glorified spotting, Deltics were a long way away, Piddleys were very restricted and so it fell to the Peaks ( and Laira 46s in particular ) to fill the gap as they had never harmed us in any way. Just then dim lights, reminiscent of the "0000" carried by the Thousands appeared around the corner but, instead of heading towards Platform 7 the lights veered towards Platform 5 which meant the 1745 "Stopper" to Penzance had worked and therefore there was little hope for us but, wait, it wasn't Ten - Ten, it was "Ducks" (D1022) which had spent the last couple of days "Up in the air" at Laira.

And then yet more lights and this time they were headed in our direction. Laira had turned out two "Thousands" within in minutes and so, even at this late stage in the game you could go East or West - just like the old days! Having run around steam started to leak from all the nooks and crannies in the ageing Mark 1 "Compo" with that familiar musty smell combined with the sweet smell of the Spanner boiler which cycled and rumbled reassuringly up the front. Despite the chilly evening air all windows were taken as the starting signal winked from red through yellow to green and then the familiar orange "RA" illuminated; the signal for the Exeter driver to rev the Maybachs and head for the hills. Down past Laira it seemed incredible that the only Whizzos there were going nowhere except to the breakers. Meanwhile, up the front a small cloud of black smoke signalled the increase in revs for yet another assault of Hemerdon ..........................
2. LINESIDE

You could hear it long before you could see it because it had a heavy load in tow. And this heavy load was being hauled up a steep grade. The first you saw of the train was the twin rods of exhaust punching skywards in a "Vee" - just. The grey exhaust blended into the greying November dusk. And then the familiar rounded hood, streaked with road dust which was blue in it's prime and then the speckled yellow front pitted with rust spots which once sparkled like the summer sun. The lines of the windows made the front look melancholy like it knew that it had but weeks to be useful - and that it wouldn't see another spring. As it passed you could feel the power and the name? Western Lady. Behind it followed a not inconsiderable amount of six wheeled milk tanks, probably the maximum for a Thousand, calculated when they were in their prime and yet here in the twilight of their careers still laying down enough horses to lift anything the Operating Department threw at them. The beat never changed all the time it was in earshot and it was in earshot for a long time as it climbed to the summit at Wrangaton on its way to London through the November night.
3. ON THE TRAIN

Waiting at Taunton was always enjoyable; in those days there was usually some big locos on the shed and often a goods passing on the Goods lines and sometimes there was something really unusual. Today was no exception; a split box Thirty Seven screeched around the Goods lines on 7V39 - Warrington to Riverside. This was rare; 37s were rare enough but a box headcode one was big! In the old Down bay stood an immaculate Thousand. Why Musketeer, just ex Laira and sparkling in the Summer sun, was there was a mystery but never mind snap away with the Kodak Instamatic, run your hands over the plates and jump up to look in the windows; it was like having your own Western all to yourself. It was always still in those days and you could even hear the signal drop to herald the arrival of 1B03 07.30 ex Padd.

This train was always a gamble even in '74 as quite often Old Oak would kick out one of the few Hoovers that had already infiltrated the Western but today the familiar hooded front rounded the corner and we'd scored! In those days there were over sixty to chose from so it was always a surprise which one turned up and this morning it was the Duchess - ten forty four - heading a BG and an assortment of blue and grey Mark 2s and a Mark 1 buffet totalling 12 vehicles. Leap into the front coach and all windows open for the move to Newton Abbot and 1A05 11.55 ex Paignton which was bound to be alright because then the summers were always sunnier and every train we wanted to score did. Even now I can remember the purple card which was the Area 4 which was in turn our passport to a bashing idyll; Taunton to Newton Abbot up and down all day just stopping at Taunton long enough for a Millers chicken and bacon pie, a packet of chicken fry and a Bar Six, Top Whizzo nosh and no mistake! Sometime later, at Newton, at the top end, with just the soft summer zephyr and the soothing tick of "Beans" (D1057) on the shed to keep us interested we waited for 1A65 (1555 ex Paignton)

Meanwhile on Number 4 crept in 1E73 behind 45020 and a rake of blue and grey Mark 1s, just an ordinary train then but now..... God what we'd give to just recreate the moment! And then.... the boards cleared slowly and after an eternity, from under the girder bridge and in front of West Box, crept a bright yellow front, gleaming blue sides and a smart rake of Mark 2s. We all knew it was the "Laughing Cavalier" because it had gone down on the 10.30 from Padd but who gives a damn, we've scored to Taunton for the "three thirty". The sea wall at Dawlish was always crowded back then as the good sounds reverberated around the cliffs and the amusements arcades and the ice cream stands and the hundreds of Northerners who looked in disbelief as we screamed out the windows - "My Lords!"- we all knew it would be over soon but with sixty still to choose from we were on a high and at Taunton we'd score again! But gentle reader it was not always so! Sometimes Old Oak lost the plot and instead of scoring a dreaded Dub would appear and we'd have to fester, perhaps for the Edinburgh, if Bath Road were being kind but more often than not it was for a Peak on 'V94 and then a bog cart home. But there was always tomorrow and another chance to do it all again, a bit monotonous eh? but we'd all give a big gold watch to do it tomorrow today wouldn't we? And if you want a big reminder just listen to "Westerns" by Lieutenant Pigeon and listen for the track of "Gladys" on a relief from Padd at Taunton to know what its all about: its not about the SVR or WSR its about the manic announcer at Taunton, about Mark 1s, about Relief's (for Gods sake) about loads of us just bumming about the West, about Godfrey, about the London Lads, about the lads from the North, about all of us who were there and the time that'll never come back, so, listen and weep......... (this was written before No 15 made it's comeback!)
4. IT'S COMING HOME

It was never going to be a good day especially following England's defeat the night before at the hands of Germany in Euro '96 but our Teutonic friends would play a part in the days proceedings following a particularly hectic day with the Chaterer's Charter; a train run by Res to thank it's charter customers for their business. At Euston an accident on the M1 meant that the Trainman (Dangerous from Rugby) wouldn't be there so between us we managed to crew the train up to Birmingham International and even had time for a fry up on the way down.

We changed at Kidderminster for a couple of puff puffs to Bridgnorth and then the highlight was revealed.... D1062, albeit on one engine, was rostered to take us back and the front coach soon filled up with people coming out of the closet and opening the windows to savour the thrash. It really was quite enlightening. And soon, too soon perhaps, the Maybach (!) revved and the years just peeled away and all the lads weren't managers or responsible people we were just Whizzo bashers again! The front coach reverberated with "Good Sounds" and to everyone's credit nobody started to bellow (or was it? Surely we should not be shamed into silence!) even though at every stop the driver gave it some stick.... like the "Man with the bootlace tie" used to! Soon we were "ticking" into "Kiddy" and, again, if you closed your eyes it could have been Padd, Penzance, Paignton or Swansea twenty five years before... But we did not have an Area 4 or a West of England and this wouldn't happen again tomorrow and so today we'd walk away and not look back because we all knew that this was '96 not '73 and this was not the real thing. It was close but still not like it really was. The real thing was loads of us singing "We're going to Barbados" as Souper Douper Trooper thrashed away from Dawlish in '75 with the sea shimmering, brilliant white clouds drifting like marshmallows across an unfeasibly blue sky and the whole summer before us but never mind.. It was close! And that's enough, isn't it? It'll certainly do for me!!
5. FOOTPLATE

I suppose when I watched, along with several hundred others, D1013 & D1023 leave Padd on a cold February evening in 1977 I knew that would never have the chance to drive a Whizzo on the mainline. Never mind that I wasn't even on the footplate then so the chances of driving anything were nil! Even so despite getting on the footplate and working on Deltics in their last years the likelihood of having a go on a Thousand would remain one of life's unfulfilled dreams.

Fast forward twenty-five years and cut to a bright Spring morning at Reading station where many old friends were gazing East out towards Sonning and where eventually a familiar shape albeit in a colour few of us could remember appeared and slowly crept into Platform 4. Although the colour was unfamiliar the name and number wasn't although not seen for nearly a quarter of a decade - the number was D1015 and the name Western Champion. As everyone else headed towards the coaches I made my way to the cab where I was to drive over the B & H to Westbury beyond.. Sitting in the chair and watching R38 change to green with No 1 junction indicator the reality dawned that 25 years after deciding that I would never drive a thousand on the mainline I was seconds away from taking the first Whizzo down the B & H since D1048 on the Lament in February 1977 and the first Swindon Whizzo since D1023 on the 10.40 ex Padd earlier in the same month............ and then "RA" Engine Only to Forward and then ease the controller back.

There was only one place to put ones head and that was out the window to check, ostensibly, that everything was coming but in reality to savour the good sounds. It wasn't long before the handle was right back and the years just rolled away. Blasting away out through Reading West a surreal dream like state ensued which seemed to last for ever. Becoming the first driver to bring a Thousand in and out of Exeter St Davids for twenty five years will take some beating........ Fast forward again to 15th June '02 and Bath Spa station awaiting the arrival of 1Z15 15.10 ex Swansea. Slightly later than booked Mr Blagg smoothly halted a big golden ochre beast, ticking like only a Thousand can. Climbing into the cab (which was complete with plaster gnome - a reference to the old Bath Road gnome totter merchants) and taking the chair all that was required was the green flag and we would be away.

Right on cue a flash of green from towards the back and yet again the handle caused the Maybach's to rev to a crescendo as we thrashed out through Sydney Gardens before receiving the flashing yellows for Bathampton Junction and the route to the Desert via Bradford Junc. Once clear of the junction I wound up the machine again and soon we were up to line speed (60 mph) and making good progress before catching up the Weymouth which left a good ten minutes before although it was stopping at every white washed wall. The speed was brought down following the single yellow and approaching the red we were doing about ten before the aspect flicked from red to green. By careful manipulation of speeds most of the stations could be blasted through before receiving the feathers to squeal around the Chord at Hawkeridge to the spiritual home of the Whizzos ..... the B & H.

Once clear of the Junction at Heywood Road the handle went from off to full and there it stayed until the top of Savernake was reached and had to ease off for the 70 around Crofton. One more check, this time a ESR at Hungerford before the final blast towards Reading. To maximise the effect at Newbury I eased it back up the knap to Enborne Junction before giving it the lot just after the new A34 overbridge which meant that with a cacophony of noise and horn we blasted through the middle road at Newbury dead on 90. (It could have been more but rules are rules!) After passing under the M4 at Theale double yellows were sighted which meant that this bit of the thrash was over. Coming to a stand at R379 ("Nelsons Hat") we realised that we were over ten early. After doing all the other tours in some shape or fashion including the incredible bellow into Victoria on the VSOE when the kettle blew up the best, so far, was kept until a staggeringly hot Saturday in August when we all went back to PZ behind a Whizzo - who would have thought that? After 26 years we were back at the blocks!! My Lords - absolutely dreadful! And what's more this time I'd be leaving up the front! Three hours later a Whizzo was ticking over in Platform 5 at Exeter - how many times has that happened before? - awaiting the RA for Padd.

This time for me was slightly different - I was in the chair with an audience of quite a few with a hand on the handle of nourishment and quite a lot expectant heads out of the window! Red to Green, auto brake to Run - straight air brake lapped at 20 psi - F & R to Forward - "RA" illuminates and then click - full - the lot!!! 1600 revs from a standing start! Savouring the thrash I notice Mr Greenslade's plaque "My Lords!" - dreadful! Looking back the station where many of us had grown up was covered in the good clag and the people applauding - does it get any better than this? I don't think so..... (at least not in railway terms!)
6. SUMMER SATURDAYS

There are two ways to start a Summer Saturday; fester at Bridgwater for the Down Midnight or have a good nights kip and out early for the Down overnights. And then where do you go? Newquay? Paignton? Weymouth? Fishguard? Padd? Penzance? Well, it all depended what appeared when the "pegs" were lowered and you strained your eyes towards Cowley. The best places for a Summer Saturday were the resorts; Newquay, Paignton or Weymouth. Fishguard was OK but there was, to be blunt, sod all to do there! Weymouth was quite rare until '76 but Newquay and Paignton were the places to go for Whizzos, sun, sand, slot machines and chips.

The thrash to Newquay was the best; up through the Luxulyan valley and the into the platform at Newquay. Whilst the machine ran around we would sample the town, some chips or breakfast, the fruit machines and then back to the station to grab the front coach and fling open the windows. The problem with Cornish moves Eastward meant a change of loco at Plymouth except in very exceptional circumstances however Saturdays meant anything can happen and often some Northern trains would go through and change engines at Bristol or Gloucester or even New Street. The journey through deepest North Cornwall was always a sedentary affair; changing tokens at St Dennis and Goonbarrow before descending towards St Blazey after which we would squeal around the corner into Par and then into the near continuous thrash to Liskeard. If the loco "clunked" at Plymouth then we would bale too to await our fate for the next available Thousand either West or East. Plymouth station on a balmy Summer Saturday afternoon could hardly be beaten for atmosphere.

Even if there were no Westerns about just lazing around on a BRUTE and sipping a Kia Ora or an ice cream and staring towards Laira expecting some "good sounds" for the Down Cornishman or the Down "Rivo" or even the Down Wolves - either way the move would finish on the Up North Mail, Up Midnight or the Up "Schlafs". Just prior to 14.00 the loco for 1V71 forward would drift in from Laira; all too often it would be diesel electric but sometimes although all to infrequently it would be Hydraulic and the loco would sit just "ticking" in the middle road with one of Laira's finest at the throttle. Once the Peak arrived, cut off and had departed to Laira the Western would run forward onto the bridge and then drop back onto the remainder of the stock which remained after the buffet etc has been removed. Sometime after 14.10 the loco would be thrashed mercilessly through the Duchy eventually terminating at PZ around 16.30 - leaving ample time for chips and a bellow before going back to the station and the motley selection of stock which formed the 17.45 to Bristol. Usually it was two or three Mark 1 compos and a few grubby parcel vans.

Despite this being the penultimate train of the day East seldom did the number of passengers unduly trouble the guard. The light at Penzance was always diffused by the high stone retaining wall thus St Michaels Mount was in bright sunshine whilst the station and what it contained was in slightly less bright light which nevertheless seemed to show the "Laira blue" of the Whizzos to the best effect. Being this far West meant that the light lasted longer - in fact until well after Plymouth and if it was a glorious evening, as it often was, therecould have been fewer finer places to be. And, of course, we knew that the next morning there would be a least one Whizzo on Bath Road to be kicked out Westwards - it really was as simple as that back then!! Fishguard was for hardcore bashers as it had to be reached via an overnight usually off the Up Midnight but also on the overnight out of Padd. Of course the Up Midnight had to work - and this was by no means guaranteed - if the 08.20 had to be covered or anything on the Friday to get to London. Fishguard was a long way from London in fact it was a long way from Swansea and when you got there, there wasn't a great deal to do except either go to Ireland or come back! It took all day and all you got was 400 miles plus behind Whizzos and maybe a few phots but that was all - except for the memories.

Paignton was an altogether different affair - you could chose from several trains and even go more than once. There was good thrash, reasonable mileage and the usual seaside attractions - an often irresistible combination and it could be all done on an Area 4!! The Summer timetable lasted a lot longer than the mean and paltry post Privatisation ones we are now used to and also there were more than the few additionals that also run now so not only did you get the regular service you also got quite a number of reliefs to chose from often at short notice. A motley selection of "vaccys" kicked out from some normally forgotten siding hauled by anything which the Ops Dept could lay its hands on and often crewed by freight men who relished the opportunity to travel at more than 45!! Back to Paignton and what goes down must come back so most of the Down trains returned to at least Newton Abbot and sometimes further so you could get out of town relatively easily. It is difficult to comprehend quite how busy, how complex and how fascinating those Summer Saturdays were compared with today. Today a Summer Saturday barely resembles a Winter Sunday!! Standing on any station East of Newton Abbot and West of Taunton one was treated to a continual stream of traffic both Up and Down and more often than not there were some surprises. Not often was it loco types but certainly rare locos within the Class ie. Thornaby Duffs, Cricklewood Peaks, Eastfield Rats and so on.

Quite a few people, to their eternal shame(!), took to going after these "lines in the book" rather than sampling the hydraulic wares on offer. It really was very difficult not to score back then - a wonderful time! And of course the saddest thing of all was that we took it all for granted because we could do it all again next week and when the Summer was over the Winter would bring it's own moves but anyway back to the Summer........... Every weekend people would descend on the West and you would meet tens of people who you only saw at weekends or when the came down for their annual rover. Of course we took the piss unmercifully but many a long term friendship was struck which lasted until well after the last Whizzo was switched off. There was an innocence back then; there were armies of people around every major station had its own contingent and of course everyone knew each other. There can be few hobbies which involve so much travelling and knowing so many people from so far a field and that's what made it such a special time. Later, much later, when we were less intense we would spend time getting pissed or playing the machines or doing the fairgrounds and sometimes not even going with the machines but that was much later.

When we were Thousand bashing it was just that - there was no time for anything else although ironically, particularly in '76, there was time enough to conduct another hobby or two!!! There was a peripheral side to bashing as well; it was the station furniture, the other things that made everything so special (in retrospect, of course) - there was the buffet food, the rip off on the train buffets in '76 (15p for a plastic beaker of warm squash!!! bastards!), the chippy's at Penzance, Mickies at Paddington, when the Landore foreman kicked out one big blue Duff (No '054 if I'm not mistaken), having an Igloo monster at Paignton and then playing bingo in the arcades and winning some adding contraption which we thought could work out mileage and then stamping out our favourite Wizzo name on the old fashioned machine in the steam railway at Paignton. And then there were the characters; God! were there characters! – but that's another story!
Nick Edwards (D1012)
"Western Holidays"
Memories at the South Devon resort of Dawlish in the Seventies By Ian Harrison
I was 8 years of age when we took our first holiday by the sea and more importantly by the main line at Dawlish Warren. The family hired a gas lit caravan under Lee Cliff where the trains passed within 50 yards or so on the busy West of England main line between Exeter and Newton Abbot. The first holiday was in 1960 and 99% of locomotives were steam. I was brought up in Chesterfield on the Midland main line so all trains in Devon were a revelation to me. The line through Dawlish in those days was unbeliveably busy espescially on Saturdays in summer. The first non-steam seen were the 600 Warships and a few new 800s. We spent holidays there most years up to the 90s. This is a memory of the railway observations on just one holiday early September 1971.
Saturday 4th September 1971

Having arrived at Dawlish Warren at 15:20 after a good car journey I watched the trains until around 10pm. There were eight Class 52's including D1005 piloted by D32 on 6B65 Cement tanks. Also eight Warships including three running light at 10pm 857 hauling 842 and 852 headcode 8Z00. My notes state that the latter two had caught fire earlier, although both were seen working later in the week. Eight Peaks, Six 47s inc 1672 Colossus. Having visited Dawlish Station Saturday night we bought tickets for the next day mystery trip which started at Paignton and picked up Dawlish at 08:10 Sunday. The best thing was the fare - yes it was 30 bob!
Sunday 5th September 1971

Our train - 1Z30 - departed Dawlish on time behind D1676 "Thor". We were hoping for a hydraulic though. We didnt know our destination although we headed north through Exeter, Taunton, Bristol, Gloucester, Lickey, Birmingham New Street. At this point we were getting worried as someone suggested they were sending us home! Hydraulics noted up to this point were; D1065 Dawlish; 6322/6336/6356 825 D1005 at Exeter; We had a wrong line stretch at Hele and waited for 1595 to pass on a motorail. D1048 Taunton; 7005 Flax Bourton; 7056 Parson Street; 7054 Filton; 7003 Yate; 7002 Glos; 7025 Ashchurch. Still heading north we passed Bescot, Wolverhampton and arrived in Shrewsbury. Only then did the steward tell us this was the destination for two hours well nothing was happeing here on a Sunday afternoon, so on returning to our seats for the return journey we noticed 1676 had gone and on our coaches was a 37, 6877. A leaflet placed on the mark one tables revealed that our return journey was via the Central Wales Line! hence a 37!

On a Sunday there were no locos around until we got to Pantyffynon - 6944/6910/6883/3595 were stabled. Someone shouted &qyot;Western" near Port Talbot - D1050 passed light engine. Although there were plenty around here only two Hymeks were seen 7084/7046. Canton revealed D1023/7065/7098/7072/7000 that we could get from the train. At central station our 37 was replaced by 1553 for the rest of the journey. No Hydraulics at Newport although Severn Tunnel yard D1017/D1012/7074. We were held for over 30 minutes at Bristol as the relief guard had not turned up, however D1047/D1034/841/7009/7021 were stabled. We set off feeling tired of seeing the inside of our coach only to be held up again at Bedminster for an hour as a failed tamper was removed 7056 was around on ballast wagons though. Eventually we arrived at Exeter close to midnight where 811/822 were on the depot. Dawlish was gained at 12 minutes past 12 Monday morning.
Monday 6th September 1971

Later we took the train to Newton Abbot behind D1023 on the 1B04 and passing Hackney yard were withdrawn Warships. 851/859/828/837/843/838/836/849. Also in the yard working were 6318 and 6332. Following a break we then took the 1V74 headed by 1574; although 858, D1041, 824 passed through too. Plymouth North Road; 806/D1055/D1006/D1032, 6319 and yes D5179! What was that doing there? A bus trip took to the shed at Laira and we pondered about going in. So we all trooped in and no one challenged us.

This is the list;

Class 42/43; 862/822/826/823/805/825/813/812/807/811/806

Class 52; D1055/D1047/D1069/D1012/D1034/D1033/D1073/D1054/D1010/D1007/D1022

Class 22; 6308/6337/6334/6328/6348/6322

Class 46; 167

Shunters; 4158/4159/2138

Back to the station and a trip to Gunnislake on W51585; D1064 in station on the stopper for Penzance. Our train from Plymouth to Dawlish was hauled by D1060 and on arrival we stopped to watch 819 on a passenger followed by 803 on a freight northbound.
Tuesday 7th September 1971

We had a rover ticket this week and decided on Penzance today. Our train was the 07:30 2B10 from Dawlish and our loco was 841 Roebuck. On the way 824 was in Stoneycombe quarry; D1036 at Plymouth; 813 and 6336 Liskeard; 3526 Bodmin Road; 807 and 1672 at Lostwithiel; 4007 at St Austell; 862 Redruth; then passing Long Rock depot; 1577/D1005/D1060/4161/815.

Our return was the 1B16 headed by D1055. On the way were; D1023 Camborne; D1044 6330 Truro; 822 at Par. Plymouth had D1056/867; Totnes D1007; Newton Abbot 808,811,1932,129.
Wednesday 8th September 1971

Visit to Looe;

Dmu to Newton Abbot; 1586 1B25 to Plymouth. W55016 Plymouth to Looe and back.

We spent some time at Newton Abbot before catching the 1B25 and interesting sightings were;

867 Zenith on a mixed goods north working the 7B59 09:35 Plymouth Friary to Exeter Riverside yard. 7009 on southbound 6V85; D1018 on 1A65 with no nameplates on one side! I took colour slides of these three trains.

Other locos around were 6343, 6541, 815(Maroon)/821/835/844/845/851/852, 132, 1595/1667/1786/1932 and D1019. Our return from Plymouth D1717 1B16 to Dawlish. Locos seen D1054 on "Pilgrims Express" charter; 6334/4004/D1016/1611/D1032/6356.
Thursday 9th September 1971

We went to Looe again!

Noted 807 double heading 108 on a northbound express at Warren 1E99 05:40 Plymouth to Sheffield.

Our train 2B10 was 841 again, D1002 noted at Newton Abbot on the up "Golden Hind" also several repeat locos at Newton Abbot. Laira had a maroon Warship 809 and D1010 visible too. Plymouth station had D1017,6343,4004. D1039 and D1041 took us back on 1B16. The trip to Looe was W55016 again. Meanwhile 814 had turned up at Newton Abbot, but little else of interest.
Friday 10th September 1971

D1020 Dawlish to Newton Abbot; 855/845/6357/1711/6333 and D1898 coupled to D815 (maroon) on the 1E37 Devonian. 824 took us to Dawlish on 1B86 17:55 Paignton to Bristol complete with cream/brown pullman Car 338 in consist. Final evenings hydraulics were D1064/D1008/825/D1017/804.

All in all a good week. If only we could return to those days!
Ian Harrison
DIESEL TRACTION GROUP © All rights reserved