D1015 Western Champion
DTG Nameplate Offer
Have you ever wanted to see your favourite Western Class 52 locomotive hard at work on the Main Line? Well, now you can with the DIESEL TRACTION GROUP.....
We are offering you the chance to have your very own replica Western name and numberplate manufactured to original specifications, then carried on the ONLY mainline registered Class 52 whilst you travel behind it in style!
The DTG will manufacture and attach your plates to one side of D1015 Western Champion to be carried on a charter train of your choice. Also included are two tickets for yourself and a guest and a guided tour of 'your' engine during the tour.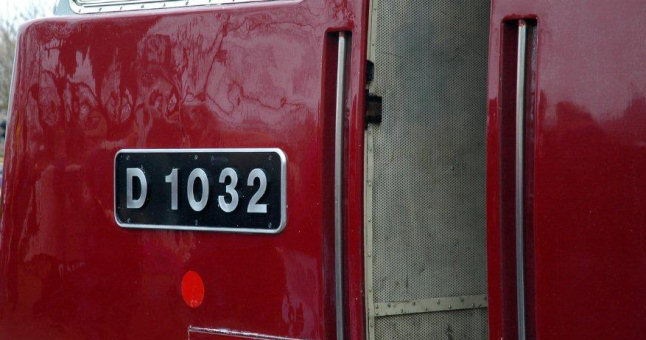 Photographs courtesy Nick Townsend, Paul Winter and Trevor Shattock
Prices and Ordering
The price for this all inclusive package is just £1,400.00 - Western Hero? Western Legionnaire? ..... the choice entirely is yours and you will be booked in with the DTG party at one end of the train. Alternatively you can really push the boat out and go for the full Premier Dining Option at £1,600.00.
The Nameplate offer has proved extremely popular with Western enthusiasts, bringing back memories of when their favourite 'Thousand' graced the mainline in British Railways days. The following names and numbers have been carried by D1015 so far:
D1005 WESTERN VENTURER
D1009 WESTERN INVADER
D1012 WESTERN FIREBRAND
D1016 WESTERN GLADIATOR
D1017 WESTERN WARRIOR
D1021 WESTERN CAVALIER
D1031 WESTERN RIFLEMAN
D1032 WESTERN MARKSMAN
D1038 WESTERN SOVEREIGN

D1040 WESTERN QUEEN
D1041 WESTERN PRINCE
D1051 WESTERN AMBASSADOR
D1054 WESTERN GOVERNOR
D1058 WESTERN NOBLEMAN
D1068 WESTERN RELIANCE
D1071 WESTERN RENOWN
D1072 WESTERN GLORY
For further information and details about securing your very own replica nameplate carried by D1015 please send an enquiry by email to with 'D1015 Nameplates' in the subject line.
---
DIESEL TRACTION GROUP © All rights reserved