D8568
News and Information
Latest News
April 2021
Jobs undertaken in the last year between SVR closures and Coronavirus restrictions resulting in a reduced workforce due to Social Distancing have included:

General bodywork repairs, including attention to cab guttering, cab floor, areas around engine room doors and headcode apertures.
The cab roof has been completely insulated and relined with attention to internal trim and paintwork.
No1 end engine no 5&6 cylinder heads have been re-jointed to resolve leaking oil transfer rubbers.
No1 end engine water pump has been overhauled.
No1 engine exhaust trunking has been re-fabricated where extensive corrosion had caused exhaust gas leakage.
Whilst the engine room bonnet was removed to facilitate the above engine work, the opportunity was taken to re-wire the associated electrical runs.
No1 end headcode assembly has been fully over hauled and repaired in our Cradley workshop.
Both vacuum exhausters have been removed for inspection, one receiving a replacement motor. Vacuum filters have been serviced and the exhauster speed up arrangements modified to suit the current exhauster motor arrangements in order to re-instate the quick release facility.
Driver's windscreen wiper motors have received attention. One being rebuilt with new seals, the other having the original air pipework re-instated to enable the temporary 'work around' pipework modifications received during its life in industrial service to be removed.
Both driver seats are being repaired and upholstered.
Both fuel gauges have been repaired and refurbished to improve their accuracy.
General attention to corroded air system pipework is still being completed along with minor re-commissioning work.
The most noticeable work also undertaken has been the external repaint into BR Blue with small yellow warning panels, this is believed to be a first for the class.
The loco is currently undergoing an underframe examination prior to re-entering traffic. There is a remaining list of work still to be done over and above the regular maintenance but this will be progressed when the loco is next stopped.
D8568 is the unique locomotive in our collection, being the only surviving example of the Clayton Type 1's which numbered 117 in total. D8568 is also our only diesel-electric loco.
The locomotive is based at the Chinnor & Princes Risborough Railway and is used during the running season and at special events.
Click the logo to visit the CPRR website

D8568 Details
| | | |
| --- | --- | --- |
| Built | | 1964 |
| Length | | 50ft 7in |
| Width | | 8ft 9½in |
| Height | | 12ft 8in |
| Weight | | 69 Tons |
| Power Unit | | Paxman 6ZHXL x 2 |
| Power Output | | 450hp x 2 |
| Tractive Effort | | 40,000 lbf Maximum |
| Transmission | | DC Generator and Traction Motors |
| | | (GEC WT800 and GEC WT421 x 4) |
| Max Speed | | 60 MPH |
| Train Brake | | Vacuum Only |
| Train Heat | | None, through-piped for Steam Heat |
| | | (currently isolated on D8568) |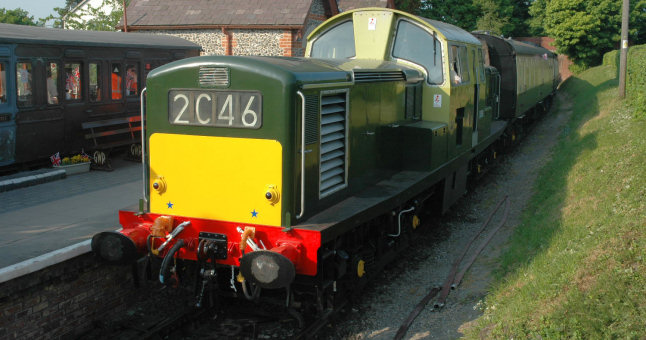 D8568 stands at Chinnor with a weekend service, 29th April 2011 courtesy J.Duncan
See the Gallery and Engineering pages for more photos of D8568
DIESEL TRACTION GROUP © All rights reserved