D821 Greyhound
Running Days and Events
2014 Season, Severn Valley Railway

Due to essential maintenance work being carried out this year, unfortunately D821 is unable to fulfill this years running dates.
---
The information shown on this page is intended as a guide. If you are travelling a long way specially to see or be hauled by D821 please get in touch with the relevant venue to confirm arrangements and avoid any disappointment.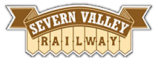 DIESEL TRACTION GROUP © All rights reserved