D821 Greyhound
British Railways History
| | |
| --- | --- |
| To traffic: | 25/05/1960 |
| Withdrawn: | 04/12/1972 |
| Mileage | 1,088,000 |
| | |
| --- | --- |
| Final Working: | 03/12/1972 - 6Z10 15:30 Bristol to Plymouth parcels |
To jump to the full data secion click here
The Warships, and D821
When built, D821 was the penultimate locomotive to have a low height cab floor (D822 being the last). Originally it was intended that both Swindon built and North British built locomotives would have inter-changeable engine and transmissions as well as bogies (the same system that operated on the German Railways). This was achievable because the engine room roof sections were inter-changeable between both types.
However, tests showed that the batch of Swindon built locomotives D803-D822 had cab floors too low to accept a Voith transmission in comfort. To correct this locomotives D823-D832 and D866-D870 were built with higher cab floors. This meant that out of a class of 71 locomotives built only the final fifteen built could be fully inter-changeable! Coupled with this the North British locomotives were not fitted with engine preheaters (to reduce construction costs) and so would have to have been retro-fitted by Swindon to allow Maybachs to be fitted, and this too was rejected on the grounds of costs.
So a major 'selling point' of the class was never achieved and Swindon built locomotives retained Maybach engines and Mekydro transmissions and North British built locomotives retained their MAN engines and Voith transmissions throughout their careers.
Although allocated to Laira from new D821 operated from Bristol on driver training trips to and from Plymouth for the first few months before taking over services between Bristol and the Capital.
Tests and Experiments
From October to December 1961, just out of Works, Greyhound was used as a test-bed locomotive by Swindon engineers for trials using a modernised experimental AWS and Deadmans system. On the 16th and 17th D821 hauled a 60 wagon train, of which just five were vacuum braked, between Athelney and Durston at various speeds from 5 to 15mph. On the 31st October and 1st November more tests, this time using 12 BR Mark I coaches working from Swindon to Stoke Gifford, the train formation included Dynamometer Car DW 150192. Once the test figures were compiled, D821 was trialed on both passenger and freight loads (fully fitted, partially fitted and unfitted) at various speeds using both 21" and 25" of vacuum. The final test was completed on the 7th December.
Liveries and Modifications
When released from Swindon Works in January 1968, D821 was the first of the class to be released in the livery version of Blue with new style 'Sans Gill' numbers with a 'D' prefix, numbers on all cab sides along with double arrow emblems. This style of livery continued with the class until the final livery style of numbers without the 'D' prefix and a single emblem under the nameplate took over in early 1969, a livery version which 821 adopted from the 18th August 1971, this being the Works release with the actual date painting was 'signed off' in the cabs being the 20th July. During this works visit in 1968, D821 became one of the batch fitted with both WR AWS and BR AWS systems. This selected batch (D803 to D821) were also fitted with Short Circuit Bars for operating over Southern metals between Basingstoke and London Waterloo on the Exeter-London corridor.
Royal Duties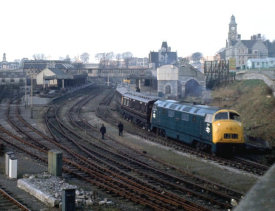 The first Royal duty identified for Greyhound occurred on the 8th March 1968. A visit to the City of Plymouth by the Royals saw D1023 Western Fusilier take the Royal train, 1Z02, from Paddington to Plymouth Devonport Kings Road for overnight berthing where D821 took over to haul the train into North Road where the Royal party alighted. This turned out to be the last time a train ran from Devonport Kings Road, the line being officially closed for good after the departure of 1Z02. At North Road Greyhound ran round and took the empty coaches to Old Oak Common for onward transit to Wolverton.

Photo: D821 at Devonport Kings Road © Bernard Mills
On Tuesday 5th October 1971, 821 worked 1X01 from Victoria to Gatwick Airport conveying HRH Princess Margaret to officially greet Emperor Hiro Hito of Japan, visiting the Country. 827 Kelly was the Royal standby locomotive in case Greyhound got into trouble.
1972, the last days
On Friday 1st December 821 was one of five Warships left on the 'books' although 832 had been in store at Laira for some weeks. Starting from Westbury the days duties were made up of freight workings. Starting with 8B18 06:10 Westbury to Yeovil and 7B47 12:30 return 821 headed off in the afternoon to Swindon on 8B45 15:08 Westbury to Swindon freight. From there the next working took D821 to Bristol in charge of 7B18 20:40 Reading to Exeter Riverside as far as Bristol.
On the 2nd a call came to the BreakDown unit at Bristol for assistance at Reading in the rerailing of 1029 which had become derailed all wheels in the station. Departing from Bristol at 04:00, 821 spent most of the day in attendance before returning the Breakdown Vans back to Bristol that afternoon. By the time 821 retired to Bath Road both 812 and 824 had been withdrawn and 810 was at Old Oak Common preparing to work its last train.
Sunday the 3rd dawned and 821 was at Stoke Gifford on 8Z07, an engineers duty but by mid-day 821 was back at Bath Road. The final working was a special Christmas parcels relief from Bristol at 15:30 to Plymouth. This train was 6Z10 but even on its last duty the crew failed to show the correct headcode, leaving 'Z07' up from its engineers duty only changing the '8' to a '4' to indicate a parcels train. The journey Down was drawn out. The service stopped for long periods at Taunton, Exeter and Newton Abbot, eventually arriving at Plymouth at 21:50. 821 retired to Laira to join the other four remaining Warships. Whilst 832 remained in store 810, 812, 821 and 824 were all withdrawn and 832 was condemned on the 16th.
D821 Greyhound
British Railways History Data
| | |
| --- | --- |
| To traffic: | 25/05/1960 |
| Withdrawn: | 04/12/1972 |
| Mileage | 1,088,000 |
| | |
| --- | --- |
| Final Working: | 03/12/1972 - 6Z10 15:30 Bristol to Plymouth parcels |
---
Depots
| | | | |
| --- | --- | --- | --- |
| Allocated: | 25/05/1960 | | 83D Laira (84A from 09/09/1963) |
| | -- /03/1967 | | 83A Newton Abbot |
| | -- /03/1970 | | 84A Laira |
| | 04/10/1971 | | 83A Newton Abbot |
| | 02/01/1972 | | 84A Laira |
---
Liveries
| | | | |
| --- | --- | --- | --- |
| From | To | | Description |
| 25/05/1960 | 14/08/1961 | | Green - Red buffer beams, Grey body stripe |
| 14/10/1961 | 16/01/1964 | | Green - As above with overhead live wire warnings |
| 07/02/1964 | 09/03/1966 | | Green - As above with yellow warning panel |
| 06/05/1966 | 08/12/1967 | | Maroon - Standard yellow warning panels |
| 11/01/1968 | 20/04/1971 | | Blue - Full yellow ends, numbers with 'D' prefix and emblems on cab sides (First of class with new style 'Sans Gil' numbers) |
| 18/08/1971 | Withdrawal | | Blue - Full yellow ends, numbers on cab sides, no 'D' and emblems under nameplates |
---
Works Visits
| | | | |
| --- | --- | --- | --- |
| From | To | | Repair work carried out |
| 19/07/1960 | 21/07/1960 | | Casual - A end collision damage repairs |
| 09/08/1960 | 12/08/1960 | | Casual - A and B engine modifications |
| 22/09/1960 | 29/09/1960 | | Light - B engine change and bogie work |
| 01/12/1960 | 07/12/1960 | | Light - A engine repair and bogie work |
| 17/04/1961 | 03/05/1961 | | Light - A transmission repair and bogie work |
| 14/08/1961 | 04/10/1961 | | Light - A and B engine change, bogie work, boiler change, 5000 hour body exam and experiment fitted |
| 26/03/1963 | 26/03/1963 | | Unscheduled - Loco weighed |
| 16/01/1964 | 07/02/1964 | | Unscheduled - A and B bogie change, boiler change and general modifications carried out |
| 09/03/1966 | 06/05/1966 | | Intermediate - B engine change, A and B transmission change, A and B bogie change, boiler change, general modifications and experiment fitted |
| 08/12/1967 | 11/01/1968 | | Unclassified - B engine change, B transmission change, A and B bogie change, Dual AWS fitted, body repairs and experiments fitted |
| 20/04/1971 | 18/08/1971 | | Classified - A and B engine change, A and B transmission change, A and B bogie change, body repairs (internal fire damage) and general modifications |
---
If you have any information to add or have any of D821's repair logs we would be very happy to hear from you, please get in touch
The story continues with D821's Preservation History
DIESEL TRACTION GROUP © All rights reserved